THE PERSONAL TRAINER CONNECTION!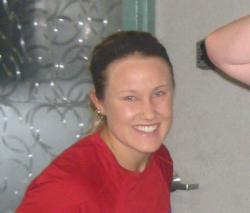 Elite personal trainer that can get any one that really wants it to their goal
Chelsea Duran -
(520) 270-5927
Albuquerque, New Mexico 87120
Trains both men and women.
contact trainer
Specialties
Strength Building
Weight Loss
Rehabilitation
Body Sculpting
Athletic Performance
Training Locations
home
work
gym
studio
outdoor
My home
Certifications
ACE Certified trainer
Parisi Speed School Certification
Personal Trainer Overview
I have a degree in exercise science and have trained every level of fitness over the last 11 years. I use proven methods to help my clients reach their goals, whether its lose 50lbs or rule the cage in an MMA fight.
Training Philosophy
I believe anyone can reach their greatest fitness potential. The average person doesn't come close to realizing the potential of their body. I have helped people reach goals that have seemed impossible. Its the greatest reward for me to see someone complete their first triathlon after losing 100lbs or tell me that their teammates in the sport they play have been commenting on how much faster they are.
Education
Bachelors in Human Kinetics with a specialization in Exercise Science, MMA strength and conditioning coach, Triathlon coach, fitness and athletic nutrition, pre and post natal fitness, figure/fitness competition preparation, athletic injury prevention and rehabilitation.
Bio
I started dance when I was 5 years old and from there it went into long distance running and weight lifting. My growing passion for fitness when I was in High School led me to take my degree in exercise science. Dancing is still a part of my life in the form of Latin dancing and has expanded to martial arts, including Jiu Jitsu and Capoiera. Running has always been a part of my life, but now its part of triathlons. I began those a year ago and now am working toward a goal of competing in Ironman Kona. I am always trying to learn more about training methods for fitness and athletics and love that my life can revolve around it.