THE PERSONAL TRAINER CONNECTION!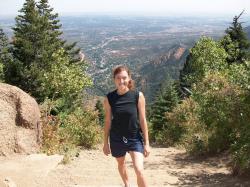 Specialties
Strength Building
Weight Loss
Running, Core & Flexibility, End
Certifications
ACE Certified Personal Trainer Certified Strength and Conditioning Instructor CPR Certified
Personal Trainer Overview
My weight loss and strength training techniques include calisthenics (body weight type exercises), plyometric type exercises, interval training, circuit/bootcamp training, and core training (Abs, lower back, glutes, obliques). Also, I offer running programs and training for the novice to the experienced runner. Want someone to run with to push you farther along, or to help you increase your speed? I will look at your form, create a program for you involving runs, and show you exercises to strengthen the muscles necessary to improve your running and health, and run with you for encouragement and motivation!
Training Philosophy
I believe that exercise needs to be somewhat enjoyable in order to stick with it. Find something that you enjoy doing. Sometimes, it takes time and practice at one kind of exercise to know whether you actually enjoy it or not. Plus, our enjoyment can change, thus it is necessary to mix it up. Variety is the key to improved fitness and overall health. And although it is important to enjoy at least some of your exercise, it is important to challenge yourself too. You can only make progress if you challenge yourself and stick with it! You will feel better about yourself. And I guarantee that you are stronger than you think you are! Let me show you your greater potential.
Education
B.A. in Women and Gender Studies Personal Trainer, Strength Training Instructor, Kickboxing Instructing, Bootcamp Instructing, Circuit Training Instructor, YMCA Healthy Lifestyles, YMCA Strength and Conditioning, Jim Graden's Cardio Karate Strength Training Instructor, Resistance Bands training, Yoga, stability balls
Bio
I've been running my whole life, and started strength training as a young teenager. , Currently, I run long distances, weight lift, kickbox, do yoga, go one long distance hikes, take spin classes, circuit train, and run track intervals. Also, I love traveling, spending time with friends, reading, writing, cooking vegetarian meals with friends, enjoying the outdoors on sunny days, and chocolate!