THE PERSONAL TRAINER CONNECTION!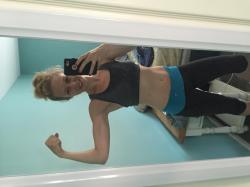 B_Fitness
Brianne Daly -
631-561-1156
Northport, New York 11768
Trains both men and women.
contact trainer
Specialties
Strength Building
Weight Loss
Body Sculpting
Certifications
ISSA Personal Trainer & Fitness Nutrition Specialist.
Personal Trainer Overview
I believe in using HIIT training to help clients lose weight and then incorporate strength training to build muscles and strength. I am not that trainer who will scream at you, instead I will motivate you throughout our sessions to help you reach your goals in a safe and effective manner.
Training Philosophy
I believe that personal training should be fun. I will make you work hard but will also make our sessions fun and will help you to like working out. I firmly believe that cardio, weight training and stretching are the way to achieve a fit and healthy body. While working out is half the battle I will also teach you how to follow a portion controlled diet which will help you to achieve that body that you've always wanted. A healthy diet is half the battle. I motivate my clients by encouraging them not to give up even if they find certain exercises hard at first. We will start out slow and work our way up and by the end of your sessions with me you will feel stronger. Something that has always motivated me is before and after pictures. When I look at pictures of myself from 7 years ago to the present day it motivates me to keep going. I want my clients to get that same feeling after working out with me.
Education
I have an ISSA personal training certification as well as an ISSA fitness nutrition specialist certification. I have also instructed group fitness classes as well as boot camp classes.
Bio
I went to college and graduated with a bachelor's degree in Psychology. It wasn't until after college that I developed a love for fitness and nutrition. During that time I was at my heaviest weight of 150 and I decided that I needed to make a change. I was never a person who loved working out or eating healthy. I started out by going to the gym and making minor tweaks to my diet. I started to see changes in my body and it was then that I decided to pursue a certification in personal training. I wanted to help individuals reach their goals like I had reached mine. Working out and helping individuals reach their fitness goals is my passion. I want my clients to experience the same feeling I had when I reached my goal weight. Together we can achieve a healthier and better you!