THE PERSONAL TRAINER CONNECTION!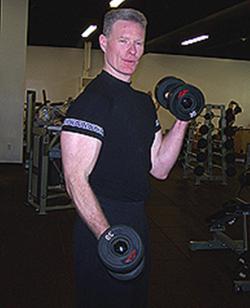 Specialties
Strength Building
Body Building
Weight Loss
Rehabilitation
Aerobics
Body Sculpting
Senior Fitness
Training Locations
home
work
studio
At Client's Home Gym
Certifications
I hold certifications from The International Sports and Science Association (ISSA) including Certified Fitness Trainer; Specialist in Performance Nutrition; and Fitness Therapy. In addition
I am a member of IDEA Health and Fitness Association.
Personal Trainer Overview
My training style emphasizes proper movement form and efficient technique accompanied by constructive, immediate feedback. A comprehensive fitness assessment to include health history, medications taken, aerobic capacity, posture, and strength is gathered in order to generate the most appropriate training program based on training goals. Periodic reassessment of your health and fitness progress will be obtained to ensure training progress is achieved.
Training Philosophy
My objective as a personal trainer is to help better your health by reducing the onset of chronic illness and enhance your general well-being and daily functional abilities throughout your life. Emphasis will be on multi-joint movements that mimic the activities of daily living such as learning how to squat properly when bending down to pick up something or how to press overhead in order to put something on a high shelf. Services include senior fitness training, flexibility training, strength training, weight loss, toning, cardio, muscle mass training, core training, bodybuilding, balance training, rehab, yoga, sports massage, and nutritional counseling. Whether your desire is to be able to dance, golf or play with the grandchildren, it is my goal to share a long-term commitment toward enhancing your regular physical activity and quality of life and to make you feel good about yourself.
Education
* B.S. degree in Kinesiology (Fitness and Exercise Specialist) San Jose State University (2010 grad) * Certificate of Completion (Personal Fitness Trainer) De Anza Community College (2004 grad) * B.S. degree in Mechanical Engineering San Jose State University (2000 grad) I have taken many courses to support my chosen field of study including such classes as exercise physiology, sports nutrition, aging and nutrition, exercise for special populations, fitness assessment, biomechanics, and prevention and care of athletic injuries. I interned and have been on staff as a personal fitness trainer at Stanford University since 2006. Since then I have provided guidance for clients in regard to weight or fat loss, muscle mass gain, yoga, core training, flex band training, free weight training, stability ball training, boot camp training, lifestyle management, sports conditioning, and adaptive exercise for special populations.
Bio
I have been a Certified Fitness Trainer since 2003 and have provided health and fitness guidance to home-based clients as well as Stanford University clients for over 3 years. I hold a B.S. degree in Kinesiology (Cum Laude honor) as well as a B.S. degree in Mechanical Engineering. In addition, I am a Senior Noncommissioned Officer in the Army, having served in the Armed Forces for over 25 years. The military has instilled in me the core values of discipline, motivation, respect, and the dedication needed to be successful as a personal trainer. My favorite activities include hiking, swimming, yoga, and of course weight lifting. Weight lifting has been a passion of mine for over 20 years and has allowed me the opportunity to live a healthy life. Special interests include bodybuilding, senior fitness, physical therapy, and weight loss.