THE PERSONAL TRAINER CONNECTION!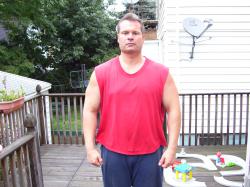 Specialties
Strength Building
Body Building
Weight Loss
nutrition, judo, wrestling
Training Locations
home
gym
work
outdoors
recreation center
Certifications
certified by AFAA and the American Red Cross
Personal Trainer Overview
My first session is free! There are no gimmicks, no obligations, just results for you. I adapt the training to fit your goals. I don't ask you to do anything that I don't do myself.
Training Philosophy
I believe in working and training each set of muscles. However, whether we are doing cardio ,weight training, or endurance,you must also live a healthy lifesyle. I provide nutrional diets to assist you in making sure the right fuel is going into your body to get the best external results for you. Having been a trainer for over 12 years, I have the experience to help you. I do provide references.
Education
I studied exercise science in college. I have also won national titles in judo and state titles in wrestling.
Bio
I have always been interested in physical training. At a young age, I started weight lifting. My first judo class was at the age of 5. In high school I won state titles in wrestling. In college I also wrestled. Presently I train clients in their home and also in the gym. I also teach wrestling in a recreation center during wrestling season. I enjoy helping bothe men, women, children, all ages.