THE PERSONAL TRAINER CONNECTION!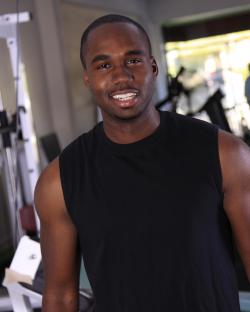 30-60 Day Body Transformations...
Aubrey Prince -
4159833459
San Francisco, California 94111
Trains both men and women.
contact trainer
Specialties
Strength Building
Weight Loss
Rehabilitation
Body Sculpting
30-day fitness programs
Certifications
Certified Personal Trainer
ACSM (2007) Certified Athletic Trainer
NATA (2008) First Aid/AED/CPR Certified (Since 2004)
Personal Trainer Overview
I specialize in 4-8 week comprehensive programs that push your body to its limit and transform the way you look and feel as much as possible in 30 to 60 days. If your goal is to lose 20 pounds and you can scientifically do it in 1 month, then make it happen! The only things you need are the right exercise program, the right nutritional principles (balance of nutrients and amount consumed are FAR more important than what you eat, so eat what you like!), and the right accountability.
Training Philosophy
We've all heard of the plateau effect. Many of us have experienced it; we start working out and eating better and then after 4-8 weeks, we start to stop acheiving results. Well, it's my philosophy to beat the plateau effect by pushing your body to its limits (of course, not doing anything unsafe or unhealthy), and achieving maximal body fat reduction, strength and endurance gains before the plateau can set in. Developing a program that will accomplish this is a four step process: 1) assess a client's body composition, functional strength, endurance, balance, flexibility, and nutrition, 2) determine goals for each of those domains, 3) determine how fast the client can reach his/her goals and 4) develop a scientifically-based program that will make it happen. I always like to give a client the fastest (but still healthy) approach possible and then challenge them to make it happen. There is nothing like completely transforming a person's body, fitness and the way they feel about themselves in 30 days!
Education
Pre-Health Post-Baccalaureate Program, University of Pennsylvania (2007) B.A. in Athletic Training, Whitworth University, Spokane, WA (2007) B.A. in Health, Fitness, Wellness and Physical Education, Whitworth University (2007) Minor Degree in Theology, Whitworth University (2007) Certified Personal Trainer, ACSM (2007) Certified Athletic Trainer, NATA (2008) First Aid/AED/CPR Certified (Since 2004)
Bio
Aubrey entered the world of fitness early on playing basketball as a child. His love for athletics, competition and self-improvement grew with time. As basketball came to an end, his love of physical fitness did not. He entered college wanting to combine his adornment for athletics and his like of science, and he received Degrees in Sports Medicine and Kinesiology. Out of his studies and personal involvement with sports, Aubrey learned that his life passion is achieving self-actualization, physically, mentally and spiritually. He is committed to helping himself and others achieve the best life they can in all of these areas. Aubrey enjoys fitness because exercise is essential to to developing and improving one's mind, body and soul.