THE PERSONAL TRAINER CONNECTION!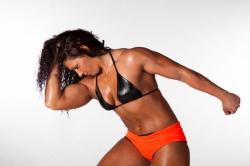 Top Michigan Personal Training
Andrea Carlomusto -
(313) 318-9529
Livonia, Michigan 48150
Trains both men and women.
contact trainer
Specialties
Strength Building
Body Building
Weight Loss
Rehabilitation
Body Sculpting
Sport specific
Certifications
I am W.I.T.S. certified
and a level 4 top tier elite trainer. I am certified in golf conditioning
group classes
functional nutrition
special populations (including diabetics
handicapped
youth
and over 60) There are others
but I'm a firm believer that even if you have a thousand certs...it won't make you a good trainer...your passion does!
Personal Trainer Overview
RX-Training is currently Detroit A -List's #1 in personal training. This company doesn't take on huge lists of clients simply because we need to concentrate on quality...not quantity. Every client is different, so workouts are custom for everyone. I have created the "connector" technique that has been proven effective in post physical therapy all the way to competitive athletes. There is no "workout of the day". If you have a goal...I simply help get you there! I get out of you what you never knew was there. You have to experience my training to fully understand.
Training Philosophy
I am completely honest with my clients...the good, the bad, the ugly. I am here to help, not tell people what they want to hear. There is nothing a client can tell me that I can't relate to. I believe a solid foundation paired with actually listening to how your body responds to exercises is the key to muscle growth and fat loss. I incorporate weight training, interval cardio, and several other methods to help clients attain their fitness goals. I also know that true health means a strong body as well as a sound mind, so many clients use me as a sounding board as to what is going on in their lives. My motto is, "You forfeit the right to complain, if you do nothing to change things". I love helping people and have been given the nickname "Gym Mama" for good reason. I push you to your potential.
Education
I have attended countless classes on fitness, nutrition and leadership all that led to certifications.
Bio
I have always wanted to help people since I can remember. I was a scholarship and award winning singer/pianist, went to beauty and pharmacy tech school, but never found my place in life until I hit the gym. I suffered for 20 years and almost died from eating disorders. Through God's grace and the gym, I found my strength. I wanted to help people like myself....self esteem issues, addictive personality, depressed...and so on, so I started an experiment on myself. If I could build myself up from 60lbs and dying into a 145lb muscled up vision of health...then I found my calling. Guinea pigging myself helped me create the successful method of training I use today. My clients are fighters, and sometimes the underdog, but I have the honor of being a small part of their transformation, whether it's touching their toes for the first time, crossing a finish line, or getting their first medal. I actually do care. Sometimes "caring" translates to "weak", but don't be fooled...I AM TOUGH! I push people...if I didn't do that, I wouldn't be doing my job and we wouldn't get things done! Fitness really is a lifestyle, and anyone who honestly wants to change will find that my training is more than worth the time, money, and inevitable frustration that it will cost. I have made the Detroit A-List for top training 2 years in a row, and currently hold the spot of #1 in Michigan. Not bad for a 4 year old grass roots company! I always thank my clients for voting me at the top!