THE PERSONAL TRAINER CONNECTION!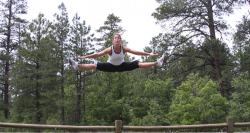 Women, Lose weight fast through burst training. Motivation at your door. Workout Less, lose weight, and gain muscle
Amber Robitaille -
(303) 859-5234
Longmont, Colorado 80501
Trains both men and women.
contact trainer
Specialties
Strength Building
Weight Loss
Aerobics
Body Sculpting
Burst Training
Certifications
Bachelor's Degree in Adult Fitness and Exercise Science. Minor in Nutrition. I am ACSM-HFI certified. CPR certified. I was a personal trainer at Metro State College of Denver
The Trails recreation center
and have been in-home personal training for over 5 years under my own business.
Personal Trainer Overview
I will help you: Tone up, build muscle, and lose fat Assess your physical condition and track changes Set and reach goals Realize common nutritional mistakes Learn proper strength training technique Improve flexibility and overall health Improve your quality of life & mental alertness
Training Philosophy
I teach women how to do burst training. I started doing this type of training right after I had my daughter in 2006. After having a baby I needed to be able to accomplish a full body workout in a very short amount of time. I needed to lose 35 pounds and recapture my pre-baby belly and I did. Now I have a new baby and am using Burst training to tone up again. I've been working out for about 4 months and am almost at my goal weight and preferred muscle tone! Burst training is the most convenient and time efficient workout I've ever experienced. You can do this workout anywhere and in as little as 12 minutes 3 times a week you will see unbelievable results. Burst training is a type of anaerobic exercise that will give you the benefits of aerobic exercise in a shorter period of time with the added benefit of building muscle and burning fat
Education
Education Most trainer's at recreation centers, corporate gyms, and many independent trainers have certifications that take at best a weekend to achieve. The tests they have to take are open book and are mailed in. I hold a bachelor's degree in Adult Fitness & Exercise Science with a minor in Nutrition from Metropolitan State College of Denver, in Colorado. Certification Not only do I hold a degree in the field, I am also certified by the American College of Sports Medicine and am recognized as a Certified Health Fitness Instructor/Specialist. For short ACSM-HFI, which is recognized as the gold standard among the personal training profession. The only way to receive this certification is by first achieving a degree in a health related field. Then taking a 4 hour test that is not open book and is administered at a testing center while you are closely watched. So, you definitely have to know your stuff to pass. Many don't succeed their first time like I did. I am also required to complete many hours of continuing education every year to keep my prestigious ACSM-HFS certification.
Bio
I grew up in Kansas on a farm. Working hard has been a part of my life since birth. Living in a small town sports were highly emphasized and I played volleyball, basketball, soccer, and ran track. I continued to play all sports through high school, was a 4 year letterman in Volleyball and went to college for what I love to do most, workout. It took me 10 years to get my degree in Exercise Science because I worked part time to pay for my education, traveled the world, got married and now have two children. After I got my degree I started my own business doing in-home personal training. I do in-home training for a number of reasons. First, it is more convenient to workout at home. Second, I care about my clients goals and health. I want to help you achieve your fitness dreams! Also, I feel that big gyms pressure personal trainers to sell products to their clients that they don't need and are pressured to obtain new clients every month which puts all the focus NOT on you but on all the other things that don't matter. I believe that you can get all nutrients from a balanced diet and get a better workout inside their own home with a little guidance.