THE PERSONAL TRAINER CONNECTION!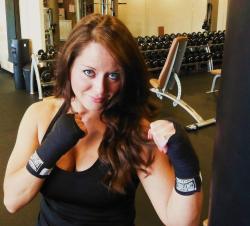 Specialties
Strength Building
Weight Loss
Rehabilitation
Kick Boxing
Boxing
Certifications
ACSM-CPT
Title Certified Boxing/Kickboxing Instructor
Personal Trainer Overview
Amanda Schmukal ACSM-CPT, can help you reach your fitness goals! Her personal experience with interval training, boxing, weight loss, and muscle building provide her clients with the best overall training experience there is to offer!
Training Philosophy
Amanda believes in empowering clients through knowledge! Anyone can tell you to lift a weight, Amanda will talk you through every step, from cardio to weights, diet and supplements, as well as give you the power to make better health choices. Every client is different, so there is no cookie cutter programs, your program is tailored to your needs and goals!
Education
ACSM-CPT, Classical Boxing Training with a Level 1 boxing coach, Olympic style weight lifting, dance, cheerleading, competitive running.
Bio
Amanda grew up in Denver, Colorado and has been a health and fitness enthusiast since a young age. After college, she took a desk job, and subsequently gained 30+ pounds! Having participated in sports, living an active lifestyle, being an avid runner and weightlifter, this was a difficult transition! Amanda made the decision to change her life, and to get back to the passion for fitness that had always played such a big role in her life. Armed with the knowledge and drive to change, Amanda lost the weight with a consistent, healthy diet and the right type of workouts. This inspired her to share this passion and experience with others who are looking to change their lives! Amanda's personal experience with weight loss, weight lifting, cardio conditioning, and positive attitude will help push you towards reaching your goals. She is a Certified Boxing instructor, Amanda trained with a Level 1 USA Boxing Coach, and loves to share her passion for boxing with her clients! Amanda is an ideal match for anyone wishing to lose weight, gain strength, learn technique, and have a blast while working out!