THE PERSONAL TRAINER CONNECTION!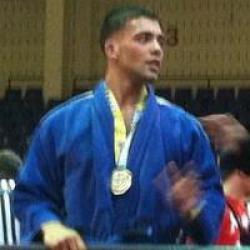 Move well, then move often
AJ Oliva -
(732) 939-8946
Marlboro, New Jersey 07746
Trains both men and women.
contact trainer
Specialties
Strength Building
Weight Loss
Rehabilitation
Kick Boxing
Nutrition
Certifications
Russian Kettlebell Challenge (RKC) Functional Movement Screen (FMS) Brazilian Jiu Jitsu Purple Belt
Personal Trainer Overview
Safe, authentic movement first. Stack strength on good movement, not dysfunction. You wouldn't put a ferrari engine in a toyota frame so why would you do that with your body? Nutrition and Lifestyle is more important than what you do in the gym. You should love what you do to stay in shape. Training should never feel like a chore!
Training Philosophy
My philosophy is simple. First do no harm. Quality of movement is more important than sets and reps. Any trainer can smoke you, it takes a good coach to get you from point A to point B. Get healthy first, then you'll lose the weight, not the other way around.
Education
Exercise Science Anatomy Trains
Bio
When I first began weight lifting, my primary focus was bodybuilding. My diet, lifestyle, and workouts revolved purely around aesthetics. As I got bigger and stronger my focus shifted to "powerbuilding". I eliminated isolation exercises and focused primarily on strength. I got much stronger, but hurt way more. I injured my low back deadlifting, and had to re-evaluate exactly what I was and was not doing, and what was appropriate for me at that point in time. This led me to learn about the Functional Movement Screen (FMS), Pavel, the RKC, and Kettlebells. I attended these certifications and learned how to move better. I read books such as Relax into stretch, Super Joints, and Movement by Gray Cook and applied their principles. I was no longer in pain, and now had a more holistic approach to training. It wasn't just about chasing one variable (strength, cardio, hypertrophy) but it was about becoming a better athlete. And ultimately feeling better. Because, what is the point of training if you feel like dog shit? Now, I had a clear objective. I was introduced to Brazilian Jiu Jitsu (BJJ) around 2007. I was doing some swings in my backyard and was approached by my landscaper, who said in half broken english "kettlebells, good, good." He asked me if I ever trained Jiu Jitsu. I told him no, and he invited me to train the next day. I agreed and turns out this gentleman was a Gracie Black belt. I trained with him 6AM every morning for months. I was humbled significantly, being 230 lbs at the time getting choked out by someone 100lbs less was a huge lesson in humility. Brazilian Jiu Jitsu was a beautiful outlet for me. It has been a way to express myself artistically. I continue to train BJJ today and have attained my Purple Belt. Ultimately at this stage, I am focused on becoming a better person, a better trainer, and someone who can help others more effectively. I am constantly trying to improve every way I can, and I look forward to what the future brings.