THE PERSONAL TRAINER CONNECTION!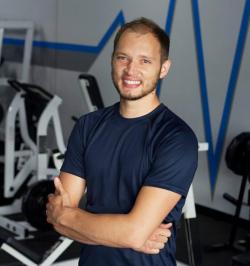 Specialties
Strength Building
Body Building
Weight Loss
Body Sculpting
Personal Trainer Overview
I, Adam Hutton, am a personal trainer that is not using this occupation as a stepping stone to get me to another job later in life. I am sold out on personal training, and am trilled to be able to help people every day to adapt a healthier lifestyle and achieve their goals. I graduated from Grand Valley State University with a major in Exercise Science, and would love to use my knowledge to help you meet your goals in the shortest amount of time possible.
Training Philosophy
I am not interested in "bro science," but only evidence base research. I collide evidence based science with my clients' goals to most effectively help them meet their goals in the shortest amount of time possible.
Education
Major in Exercise Science from Grand Valley State University I performed an internship for a non profit organization called FitKids 360 where I helped kids that were dealing with childhood obesity to learn about health, and start implementing a healthier lifestyle. I also performed a field work position for a corporate wellness department of the company Shape. I performed office work duties, and gym maintenance work. I was given the opportunity to lead cycling classes.
Bio
I started playing soccer in 1st grade, and then started running and competing when I was in 3rd grade. An active competitive lifestyle has stuck with me since. In high school I took a sports skills class, where I started to implement weight lifting into my training. I started to see amazing results, and soon after, started winning races. Resistance training has always been a staple to my training since. I had the opportunity to gain a scholarship for running until I tore my hamstring waterskiing the summer after graduating high school. My running has never been the same since. Extreme sports has been another form of activities that I have participated in since childhood. Whether snow boarding, skim boarding, wind surfing, skate boarding, mountain biking, and most recently rock climbing, I have trained hard to be the best that I could be. I have turned to bodybuilding to gain size, and actively trained clients for building muscle. I am in the process of gaining my certification as a strength and conditioning professional to give myself more validity to train athletes. Overall I am a well rounded individual that cares for the health and well being of others. Please contact me today to schedule a free training session at 303-968-8878, and, or ahuttonptraining@gmail.com