THE PERSONAL TRAINER CONNECTION!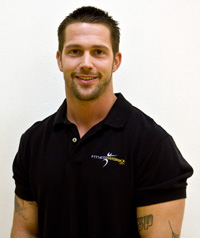 Wide Variety of Personal Training and Rehabilitation Services
Nick Rians -
714-726-0075
Huntington Beach, California 92649
Trains both men and women.
contact trainer
Specialties
Strength Building
Body Building
Weight Loss
Rehabilitation
Kick Boxing
Body Sculpting
Certifications
American Council on Exercise
National Academy of Sports Medicine
National Council for Certified Personal Trainers
United States Marine Corps Certified
CPR & AED Certified
Personal Trainer Overview
PROGRAMS WE OFFER Online Training - Guided personalized online training & nutrition. Personal Training - Train smarter, not harder. Upgrade your workouts. Cardio Kickboxing - Fight your way to a better body. Pilates - Strengthen your core, reform your body, balance your life. Kids Training - Learning healthy habits has never been more fun. Athletic Conditioning - Rise above the rest. Train like a pro. Cross Fit - Forging Elite Fitness. Yoga - Mind, body, spirit - connected. Boot Camp - No gym, no boundaries, no telling what you'll accomplish. Corporate Programs - A healthy team is your best investment.
Training Philosophy
We provide the most experienced, certified instructors who will design workouts and nutritional programs specifically for your needs. Together, as a team, we are here to give you personalized advice on what you and your body need to achieve your overall goal. This personalized attention is a great way to get started living a longer and healthier life. We train all age groups and all fitness levels. We tailor to your personal goals, physical condition and limitations - Try any program FREE - on us! Online Training - Empowerment is a vital part of pushing yourself physically. At FitnessWorkx we design a workout program based on your goals. We review your workouts every week and are available via email or phone, to advise you on any questions or concerns. We give you the knowledge to make change a reality. Online Nutrition Program - Choosing the right foods to serve your health goals can be difficult. That is why we design a meal plan based on your specific needs. At FitnessWorkx, not only does a nutritionist check your food diary on a daily basis, but they also respond to you personally every other day and call you once a month. We believe that guidance is key to proper nutrition.
Education
American Council on Exercise, National Academy of Sports Medicine, National Council for Certified Personal Trainers, United States Marine Corps Certified, CPR & AED Certified
Bio
I began my personal training career while I was in the Marine Corps. It was my job to keep my infantry unit in peak physical condition at all times. I loved my job, but when it came time to move on from the military, I chose to continue with personal training. I partnered up with the trainer from Extreme Makeover TV show. While working with them, I learned so much about the fitness industry and really enjoyed working with the wide range of personalities. I then branched out and started my own fitness company, FitnessWorkx. With this I formed a team of highly qualified instructors that shared my same passion for helping people reach their goals. To this day, I look forward to waking up and helping that new client achieve a dream that they did not even think possible.