THE PERSONAL TRAINER CONNECTION!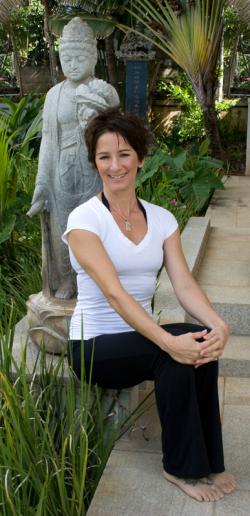 Specialties
Strength Building
Weight Loss
Rehabilitation
Yoga
Body Sculpting
Certifications
- ACSM (American College of Sports Medicine) Certified Health Fitness Specialist. Continuous since 1999. This certification is one level above ACSM's basic personal trainer certification. - ACE (Amercian Council on Exercise) Certified Personal Trainer . 1995-1999. - Bikram's Yoga College of India 500 hour Teacher Training course
Los Angeles
California. Graduated fall 2000. - American Red Cross Certified in CPR and First Aid. Continuous since 1995. - ACE (American Council on Exercise) Certified Personal Trainer 1995-1999.
Personal Trainer Overview
Health First Fitness is a truly private personal training and yoga therapy studio: Our motto is: One client, One trainer, No distractions. You will never share equipment or space with another trainer or another client.
Training Philosophy
My name is Leslie Gallo and I have been a certified fitness professional since 1995. It has been my observation that most fitness organizations, both franchised and private, are unable to service those who wish for privacy while personal training. This is why I started Health First Fitness. I strongly believe in using time-tested training techniques both in the gym and the yoga studio. You will not find gimmicks, "packaged programs" or risky training methods here. We take into consideration each student's abilities, limitations, body proportions and past exercise experiences, to create movement patterns designed to improve physical and mental health.
Education
- Monterey Peninsula College, AS, Fitness Instructor Training, 1996. - San Diego State University, BS, Kinesiology with a specialization in Fitness, Nutrition and Health. Graduated with honors and distinction in the major, 1999.
Bio
In 1994 I turned 30 years old and realized I was about 25 pounds heavier than my usual weight. I was not an "exercise person" so I hired a personal trainer and started out slow with a program of strength training, walking, and basic dietary discipline. It took me nine months to lose the weight but it worked (permanently) and my interest in anatomy and physiology grew from there. While pursuing my education, I adopted an intense routine of heavy strength training and trail running which led to pain in multiple joints and an unhealthy (and some would say unattractive) overall physique. It was the joint pain that led me to try hatha yoga. The benefits of a regular yoga practice went far beyond healing my joint pain and balancing my physical aesthetic and I wanted to share that potential with others. I truly believe that moderate strength training combined with hatha yoga leads to the healthiest and most radiant physique.