THE PERSONAL TRAINER CONNECTION!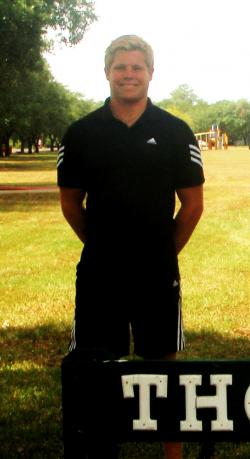 Personal Training, in home, in gym, or outdoors!
John Dorsey -
972-965-4278
Dallas, Texas 75205
Trains both men and women.
contact trainer
Specialties
Strength Building
Weight Loss
Rehabilitation
Pilates
Aerobics
Body Sculpting
Training Locations
home
gym
studio
work
outdoors
Certifications
Cooper institute CPT American Heart Association Heart Saver
Personal Trainer Overview
I am a recent graduate from Texas A&M university with a B.S in Nutrition. My specialty is providing tips on living a healthy lifestyle, toning up, and loosing weight. I have 3 years of personal training experience. I look forward to meeting you and helping you meet your goals.
Training Philosophy
My philosophy is not living to work out, but working out to live your life better than you were before.
Education
B.S in Nutrition Texas A&M University Working on Masters in health promotion from TAMU-Commerce Cooper Certified Personal Trainer
Bio
My journey of fitness began when I was 15 and a freshman in high school football. Throughout middle school and my freshman year, I was always on the B team, and majority of the time on the bench. At the end of my freshman year I had enough. I decided that I was going to work harder than anybody else on the team and earn a starting position next year on the junior varsity team. I accomplished this by working hard every day and staying in the gym after practice. This is where my love of fitness began, and gave me the confidence to pursue whatever endeavor I had in mind. In college I studied nutrition because I realized how important it was to properly fuel the human machine to get optimal results. When I became a personal trainer I attribute much of my success to the knowledge I've obtained from Texas A&M and being able to relay it to my clients in a way that is conducive to their goals. I am continuing my education right now pursuing my masters degree in health promotion to further gain more knowledge on how I can improve people's health and people's lives. It truly is my passion.