THE PERSONAL TRAINER CONNECTION!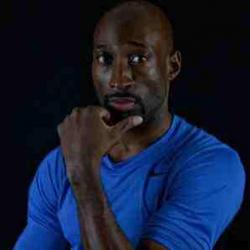 Boxing Trainer/Personal Trainer
Coach J Next -
919-244-1055
Cary, North Carolina 27519
Trains both men and women.
contact trainer
Specialties
Strength Building
Weight Loss
Body Sculpting
Boxing Trainer
Training Locations
gym
Durham/Cary/ Holly Springs
Certifications
(USA boxing association) (I.S.S.A. Certified)
Personal Trainer Overview
Boxing self-defence, Punching techniques, blocking slipping technique, punch focus mitts for cardio and form. Weights, Boxing equipment such as boxing gloves, jump rope,focus mitts punching drills, balance and weight technique to increase power, better form, and speed. Boxing aerobics to burn 700 - 1000 calories in an hour.
Training Philosophy
Train like a boxer, look like an athlete, Live like a champion!
Education
USA boxing association certified ISSA Certified
Bio
Coach J loves the art of boxing and will train, motivate, and provoke you mentally and physically like a boxer would be trained. J competed as an amateur from 1989 to 2002. Coach J loves and believes in the art of boxing and the specifics of learning how to utilize and master all of the tools of the sport, not just being one-dimensional, but being multifaceted. He got his start, at age 21, boxing for the Newark, New Jersey Police Department then training spot of The Professional fighting fireman Bo James. A little time after he began training at The Triple Threat Gym in the Iron Bound section of New Jersey where Triple Threat Team, Ray Mercer, Charles The Natural Murray and Alfred Ice Cole trained in the early 90's. J later became a member of the El Coqui Boxing Club Home of Professional Boxer Wendy Lamotta in Newark, New Jersey in 1998 and joined up with professional and amateur trainer Luis Negron under which he competed in several Jersey Golden and Diamond Glove tournaments. After his amateur career ended he began to train on a professional level under the tutelage of a precise professional, Phillip Lee Edwards a super middleweight in 2001. Equipped with thousands of rounds of sparring with various professionals, and countless amateurs, James presently works out at a professional level, and continuously spars with the new generation of boxers to remain sharp as U.S.A. Boxing certified coach and I.S.S.A. Certified personal weight trainer. Debut hopeful welter weight division 2013